January 30, 2019
Last weekend, our Head Trainer Francis, hosted our Weight Training Workshop. The workshop covered the importance of sets, reps, and tempo. Francis also debunked common fitness myths!
I wanted to share with you four common myths with weight training.
Myth #1-High reps will make you 'toned'.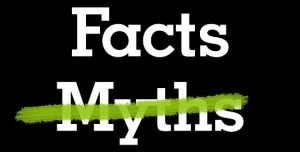 FACT-High reps train type 1-slow twitch muscle fibers. Marathon runners mainly utilize type 1 muscle fibers, while sprinters mainly utilize type 2-fast twitch muscle fibers. Can you see the distinction between the two examples? High reps help with improving endurance. If you're frequently completing high reps of 20 TRX rows or a long duration of running, cycling or rowing, you're really focusing on type 1 muscle fibers. Most bootcamps of 12 to 25+ participants and large group exercise programs, mainly focus on high reps, so it's important to also complement these workouts with programs that focus on type 2 muscle fibers if you're wanting to develop lean and 'toned' muscles.  For this reason, my personal training programs target both type 1 and type 2 muscle fibers.
Myth #2- Weight Training Makes You Bulky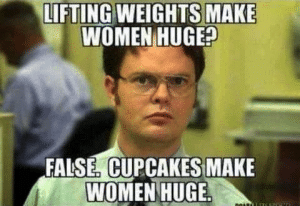 FACT- It takes hard work to even develop muscles. If you're consuming an excess number of calories consuming the right macro nutrients, you will then have the potential to build 'bigger' muscles. It's easier said than done. It's harder especially for women to develop big muscles, as women do not have enough testosterone. Getting 'bulky' from weight training is the least of your concern.
Myth #3- Doing Crunches will Tone my Mid-section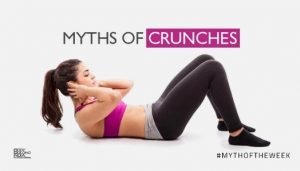 By the way, crunches are a horrible exercise for the spine. The constant flexion of the spine with crunches can lead to back pain. The truth is, crunches alone do not tone the mid-section.  We've been lied to! Why? Selling the dream of getting a flat mid stomach with a gadget such as the ab roller sells on infomercials.
FACT- Abs are made in the kitchen. Fat and muscle are different layers. If your diet isn't in check and you have a layer of adipose tissue covering your stomach, you won't be able see those flat abs. By the way, when working your abs, don't forget about strengthening your back as well. Hence working your core means you're working both your abdominals and your lower back.
FACT – doing crunches will strengthen your abs but will not take the fat off your stomach.
FACT – doing 100,000 triceps exercises will NOT get rid of your "wings"
FACT – Combining resistance training with a healthy diet will help decrease body fat, build muscle, and improve metabolism.
Myth #4- Fat Turns into Muscle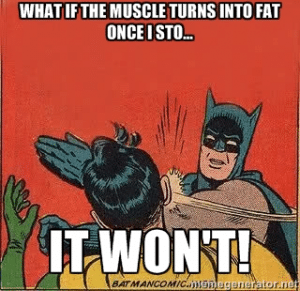 Fat does not turn into muscle. Muscle also does not turn into fat. They are completely different tissues.
There you go! You now have an upper hand by understanding the truth behind common myths.
Want to learn the best weight training exercises for you and how to safely do them? Feel free to reach out. Happy to help!
-Sammy Noh