February 26, 2019
Earlier this month, I traveled to California to meet with my fitness business coaches and other successful fitness business owners in North America. We meet every quarter to strategize, share what's working, and to solve our current challenges in our businesses. We call these mastermind meetings. With each mastermind meeting, we create action steps to complete before the next mastermind. Before each mastermind, I read my notes from previous meetings. I'm pleased to discover that the challenges I once had, are no longer challenges! I've learned that overcoming challenges and obstacles help you grow. As you grow, you encounter new challenges.
I'm a firm believer in coaching. I especially realized this when I hired a coach for my own personal transformation. Even coaches need coaches. I work with a nutrition coach and work with a Muay Thai Kickboxing instructor each week. It's an investment in myself, but the return on investment is priceless. My personal coaching team has helped me with my overall mental and body transformation and helped me lose over 50 pounds to date. The last couple of years have been life-changing for me, especially after coming from a place of grief and despair. My personal coaches played a major part in my transformation.
Receiving coaching is like having knowledge transplanted into you, by those who have already been where you're wanting to go. Coaching also decreases the time for implementation. A coach can figure out exactly what your next actions steps are. I sometimes get overwhelmed with a ton of ideas and get paralyzed in terms of where to start. I'm a huge over-thinker. My coach will filter through my chaos to determine what I should be doing now, and what I should be doing next.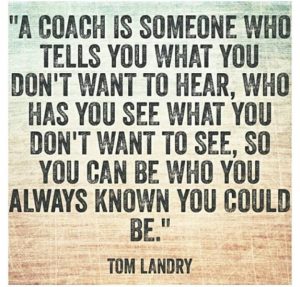 How does this relate to you? Perhaps you're new to exercise or you've been working out for quite some time.
If you're new to exercise, a coach will help figure out what your first action steps are. For one of our clients, Natalie, it was simply starting with water. This helped troubleshoot her metabolism and she ended up losing 7 pounds in a month with that one change.
Perhaps you may be thinking, where do I start? Do I do a bootcamp, do I do cycling, CrossFit, personal training, small group personal training, yoga, or kickboxing? Should I do cardio or weights? It can get quite confusing. The wrong program can create setbacks.
Maybe you're struggling with making time for exercise or even wanting the confidence that you can do this, and work through your injuries. Perhaps you're wondering how many days to start with. If you've been inactive for months or even years, 2 to 3 days is more than enough.
The other month, I met with a new client. Her first action step was to schedule her two weekly workouts as 'appointments' into her calendar. She's a busy mom with two young kids, while running a successful growing business. We framed her workout sessions as 'appointments'. Fast forward a few weeks, she's been showing up to all her workouts, and has mentioned how amazing she feels! She also mentioned that these workouts are the most important appointments of the week for her! It's 'mom' time!
Perhaps, you've been working out for quite some time. You saw some results in the past, but your weight has settled and you've hit a plateau. It's time to troubleshoot. For one, nutrition does change as you progress. Looking back the last 10 years of being in business, there were peaks and valleys. BTW, we're the longest running personal training studio in the Tri-cities due to your amazing support! There were times when I felt my business plateaued and that my own personal development plateaued. How did I break the plateau? I had to get out of my comfort zone. I had to troubleshoot. My coaches helped me troubleshoot and come up with a new game plan. "If you always do what you always did, you will always get what you always got."-Albert Einstein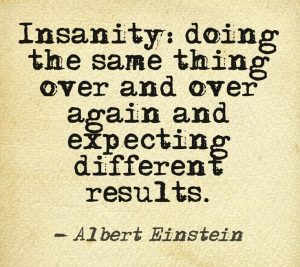 Now, there are many opportunities to work with a coach. Reading my emails is great start. =) I appreciate you and will do my best to provide you with content to help make an impact on your health and fitness. I'm currently working on more great content for you!
If you're stuck in a rut, reach out to me! I'd be happy to help!
Hope you had a wonderful day! Win your day! Win your Week!
Have a great week!
Sammy Noh
Did you know we offer a variety of programs here? We offer 1-on-1 nutrition coaching, 1 on 1 personal training, semi-private/small group personal training, and now team training?
If you haven't been to ERF, I have a couple of amazing offers on our programs: https://eagleridgefitness.clickfunnels.com/two-step-order