From: Sam Noh
Bsc. Kinesiology Degree
Head Fitness Coach, Personal Trainer
Black-belt Martial Arts Instructor
Coquitlam, B.C
Time
Dear Friend,
I know what it feels like to be overweight and unhealthy, and I completely understand the struggle and frustration of trying to lose weight. I was overweight and had health complications as a child. I desperately tried to lose this weight so the kids at school would stop making fun of me. I saved up money to buy products from infomercials, starved myself, and even purchased home exercise equipment, which I never ended up using. I was embarrassed and extremely frustrated.
I tried other alternatives such as pills and supplements, working out at home, and working out on my own at my local health club with no results – until I discovered the Ultimate Fitness Formula to blast and sculpt your body.
Upon obtaining my degree in Kinesiology, I went on a mission to apply my knowledge and my martial arts experience, to look for the most effective solution to easily shed those pounds. I used myself as a guinea pig and gained real life experience training clients. Through this hands-on experience, I stumbled upon the Ultimate Fitness Formula consisting of: martial arts, targeted nutrition, dynamic resistance training, H.I.T cardio, and a missing link which everyone overlooks in their fitness program. This missing link is crucial in determining if your fitness program will prevail or fail you.
I have done the guess work and trial and error in order to save you the heartache of gaining more weight and the disappointment of not being able to fit into your favourite clothes. I want to help you, because I know how it feels to feel uncomfortable in your own clothes.
Using this Ultimate Fitness Formula, I have helped over 187 Tri-City and Vancouver residents who struggled to lose their flabby stomach, easily and quickly melt fat and inches off their bodies.
I can help you transform your body so that you can experience the full health benefits of an active and happier lifestyle. In fact, I am confident I can help you too, that I am going to let you test drive a workout for free. You'll discover that with my unique workout, you will be able to quickly tone up and shape your problem areas.
The best part is, with my fitness program you don't have to spend countless hours in the gym. Who really has the time?
Eagle Ridge Fitness vs. Unsuccessful Options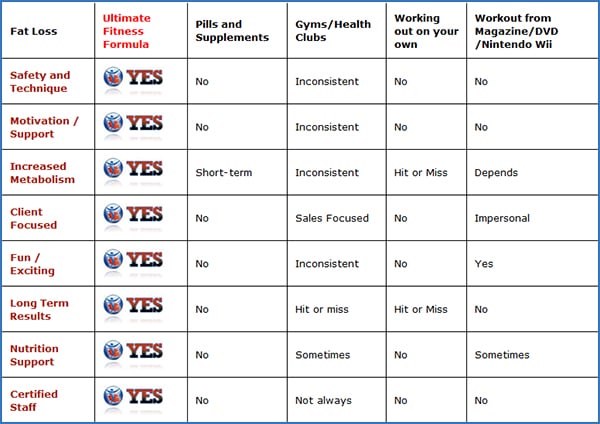 How We Compare to Other Personal Training Programs.
Eagle Ridge Fitness Personal Training
Other Personal Training Programs

Fun, unique fitness and weight loss challenges
Learn how to work out on your own
Easy program to stick with and continue making progress
Supportive, friendly environment
Client focus, personal attention
Once you get started with Eagle Ridge Fitness, you'll never need another personal training program and fitness program ever again. No other program offers our unique and effective workouts, and the amazing results that our clients enjoy.

Boring routines and tired exercises
Always have to come to the gym
Plans don't produce long-term results or encourage people to stay in shape
Intimidating and unwelcoming
No attention once you pay!
Please call us at (604) 996-1111 for more information about this program.

Or Call (604) 996-1111