We Are The Best gym in Coquitlam 
I love our area because there's so much to do. We have an abundant number of things and an especially high number of family activities in Port Moody. If you're fit, the number of activities increases even more. Port Moody has more than a third of its land area as parks, which makes it a great place for outdoor activities. There are family activities at the Port Moody Recreation Complex and Kyle Centre, some are geared specifically for children, but parental participation is required. In some cases, it means you have to be in good shape so your child will be able to get the most from the activity. I like to think that at Eagle Ridge Fitness Services, we can help you have family fun. We'll assess your overall fitness and create a program to help you get into shape faster, while teaching you how to do it on your own. We also provide help with healthy eating, which you can use for family meals, too. There's no better way to give your child a head start when it comes to a healthy lifestyle.
Family bicycling in the park and a picnic of healthy foods provides an afternoon of fun and good memories.
Kids remember the family fun and creating family memories is easy in Port Moody. Rocky Point Park is a great location for a day of fun. Not only is it good for biking and walking, it has a fantastic children's play area. If you prefer, rent a kayak for a change of pace. You'll have loads of family fun and enjoy the beautiful view of the water with the mountains in the background. Go during the week or get there early on the weekend to ensure you have a good parking spot. You won't be disappointed, especially if you're in good shape and have the energy to enjoy all the activities.
Enjoy a walk or a swim at White Pine Beach.
You'll be amazed at how warm the water is there, especially compared to other swimming areas. This is a great place for family fun, but you need to get there early to get a parking spot. Take sunscreen, plus pack hats for younger and maybe even a beach umbrella because there's not much shade, especially if you're there the full day. You'll want to pack a lunch to ensure you have some healthy foods available and don't have to wait forever in line at the concession stand for something to eat. There's also a nice trail to hike that takes about a half hour.
Take the family ice skating.
Port Moody Recreation Complex has some excellent drop-in programs and one of the best facilities in the area. They even offer an opportunity to learn curling, which is tougher than you might think. You'll have fun on family and toonie nights, too. Don't forget, young children are required to wear helmets with a face cage if they're under 12 and they must be at least 12 months old, even if they're in a stroller. Family ring stick and puck night is also a lot of fun.
Have a family fun time of geocaching. There are lots of geocaching in the tri-city area of Port Moody, Coquitlam and Port Coquitlam.
Have a family cooking night. Let the kids help prepare dinner or make up some healthy snacks. It's a great opportunity for them to learn how to make healthy meals. Our staff can help you find simple, but super healthy recipes.
At Eagle Ridge Fitness, we'll create a personalized program based on your body type, fitness level, needs and goals. Our goal is to teach you, so you can workout on your own, knowing you're on the right path.
While the weight loss, improved appearance and massive energy is a happy side effect of our fitness program, the real benefits come in improved health and the ability to really enjoy life to its fullest.
Before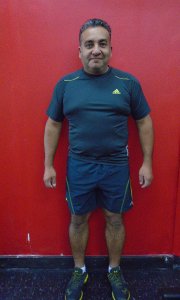 After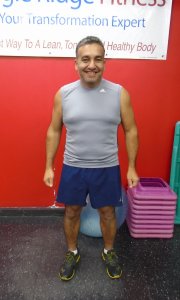 "Marcelo has lost 20 pounds!"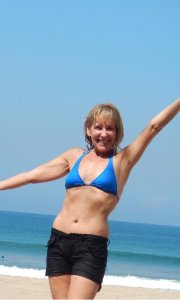 "I look and feel great in my new bikini"
Having been a competitive figure skater I had been in great physical shape all my life, without having to think about it. When I hit my mid 30's I was starting to gain weight and was not able to develop an effective plan to take the weight off and get back into shape. I was concerned that a program lifting weights would over-develop my muscles and I would end up looking mannish. I'm now 43 and have regained my strength, tone and definition – my arms (including what used to be "bat-wings" have never looked better! I feel better than I have in years and it is in a large part due to my work with Sam! I've been able to incinerate inches and fat off my problem areas. I toned my hips, butt, and inner thighs. I look and feel great in my new bikini.
Christina S.
To learn more, check out these additional resources or
call us at 604-996-1111 today!