We Are The Best gym in Coquitlam 
Whether you want to take off a few pounds and look fabulous when you go for a swim at City Centre Aquatics Complex, get in shape to take your child skating at The Poirier Sport & Leisure Complex or just get back into shape for drop-in sports at the Port Coquitlam Recreation Complex; Eagle Ridge Fitness services for Coquitlam, Port Moody and Port Coquitlam should be the first place to stop when you want help to reach your goal so you can enjoy everything this area has to offer. We pride ourselves on having a knowledgeable staff that stays abreast of the latest research in fitness. We hire the trainers at Eagle Ridge Fitness Services for their abilities, credentials and knowledge, then further train them and continuously maintain the highest standards in the industry, so we know you'll get the maximum benefits and best advice.
You are the most important client at Eagle Ridge Fitness.
No two people are alike. Each person has their own special goal, special needs and fitness capabilities. While there might be two forty-five-year old women who both want to lose weight and get into shape, one may have back problems that require modifying the workout or a different level of fitness from the other. No matter what your age, you're unique and we take that seriously. Our trainers design special programs for every client based on their body type to help them safely reach their goals in the shortest possible time.
Age causes a need to modify all fitness programs.
Just because you're over 50 or 60, it doesn't mean you can't get back into shape. In fact, we specialize in working with people like you. No matter what age you are, you'll see improvement in your physique, energy level, mood and health when you workout on a regular basis. Since we adjust our program based on your level of fitness and special needs, you never have to worry about whether you'll be able to do the workout. We'll show you how to safely get back into shape and have you feeling the best you've felt in years to enjoy all the opportunities for fun in our area.
While exercise is important to maintain good health, the food you eat is just as important.
Eating healthy doesn't mean just eating fresh fruit and vegetables, although they do play a big role in a healthy eating program. Eating healthy also doesn't mean starving yourself. In fact, once people start on the program, they find they eat more and feel more satisfied after a meal. Eating healthy means reducing the amount of processed foods and eating more whole foods. For instance, foods contain High Fructose corn syrup that not only add pounds, it doesn't stimulate the areas of the brain to tell you that you've had enough to eat…so it leaves you craving more. To make matters worse, manufacturers now call it a variety of names so it's hard to check labels to see just how much the product has. When you eat whole foods, you know exactly what you're eating.
Once we help you get started on a program of regular exercise and healthy eating, you'll find that it makes losing weight easier. You'll get other benefits, too, like lower blood pressure and blood sugar levels.
If you already have knee, hip or back problems, the right type of exercise program won't make the problems worse. In fact, quite the opposite. People often find they have far less pain.
Eating healthy doesn't have to cost a fortune or be time consuming. We can show you how to make quick meals that are kind to your budget.
We offer personal training and budget friendly small group personal training. In fact, we have a low cost group training introductory offer if you'd like to test the waters. We know you'll love the help and services we provide.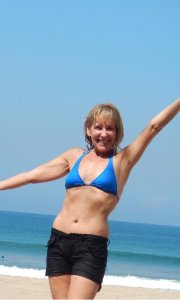 "I look and feel great in my new bikini"
Having been a competitive figure skater I had been in great physical shape all my life, without having to think about it. When I hit my mid 30's I was starting to gain weight and was not able to develop an effective plan to take the weight off and get back into shape. I was concerned that a program lifting weights would over-develop my muscles and I would end up looking mannish. I'm now 43 and have regained my strength, tone and definition – my arms (including what used to be "bat-wings" have never looked better! I feel better than I have in years and it is in a large part due to my work with Sam! I've been able to incinerate inches and fat off my problem areas. I toned my hips, butt, and inner thighs. I look and feel great in my new bikini.
Christina S.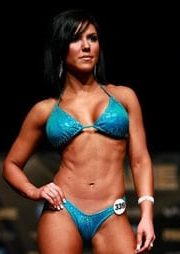 "Sam delivers results..."
As Sam's former colleague, I had the opportunity to witness firsthand the transformations of many of Sam's clients. Sam delivers results and is a leader in the fitness industry. He has a contagious passion for helping others achieve their fitness and wellness goals. I highly recommend Sam if you're serious about getting incredible results!
Jenny V.
Owner of Vandyfit, Personal Trainer, & Fitness Athlete
To learn more, check out these additional resources or
call us at 604-996-1111 today!