We Are The Best gym in Coquitlam 
There's absolutely no reason to keep your fitness routine locked away in a gym, especially when there are so many physical activities you can do in Port Coquitlam that will help you stay in shape. Staying in shape should be used for more than just fitting into that smaller pair of pants. It's the perfect way to ensure you have the energy to live life to its fullest and enjoy every minute. Our area is filled with beautiful parks and has lots of activities provided by the Port Coquitlam recreation department. Not only will you enjoy it more when you're fit, you'll stay fit the more you enjoy it.
Take a bike ride on a park trail.
Riding bikes can be a fun family adventure, an enjoyable solitude getaway to get in touch with nature or a great weekend adventure with friends. No matter why you do it, it's both enjoyable and good exercise. I have two favourites when I go riding, The Traboulay Poco trail is good for people of all fitness levels. It has a flat terrain, so it's perfect for the beginner. For those that want a thorough workout, ride the complete trail, making a loop that takes you back to the start. It's a scenic 26 km. Colony Farm Regional Park provides a blending of rural and city that I love. For a more aggressive stance on biking, try the Port Coquitlam's bike skills park, located on Shaughnessy Street north of Prairie Avenue.
Have a picnic with healthy foods.
Of course, eating won't give you the exercise you need, but a brisk walk in the park will help you burn off the calories and provide the rejuvenating exercise. Instead of riding bikes in Colony Farm Regional Park or at Traboulay Poco Trail, take a hike armed with your lunch and find a great spot along the way to stop and eat. You don't have to walk the entire park area. Choose how far you want to go, sit and eat and walk back to your starting point.
Enjoy your favourite sport.
This city sponsors adult sports that vary from the adult leagues where you need to make a commitment, to the drop in sports for an afternoon of fun. There's basketball, volleyball, hockey, dodge ball and even the ultimate Frisbee competition. If you crave water sports there are indoor pools, outdoor pools and aquatics programs provided by the Port Coquitlam recreation department. Check online for the latest Leisure Guide.
> There are public skates, as well as drop in hockey programs offered year around by the recreation department.
> Get into shape to participate in the PoCo Grand Prix on July 13, 2018 or volunteer to coach kids and help them do their best in the youth or kid's race.
> There are all types of dance lessons available that will give you the chance to use your new found energy and have fun staying fit.
Stay active and help the community. You can volunteer as a coach, swimming instructor or take an active role in a community project.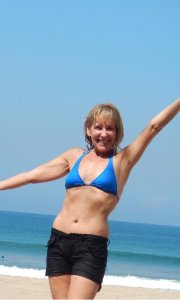 "I look and feel great in my new bikini"
Having been a competitive figure skater I had been in great physical shape all my life, without having to think about it. When I hit my mid 30's I was starting to gain weight and was not able to develop an effective plan to take the weight off and get back into shape. I was concerned that a program lifting weights would over-develop my muscles and I would end up looking mannish. I'm now 43 and have regained my strength, tone and definition – my arms (including what used to be "bat-wings" have never looked better! I feel better than I have in years and it is in a large part due to my work with Sam! I've been able to incinerate inches and fat off my problem areas. I toned my hips, butt, and inner thighs. I look and feel great in my new bikini.
Christina S.
Before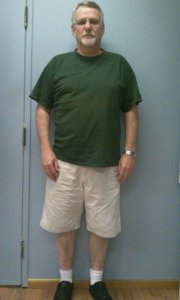 After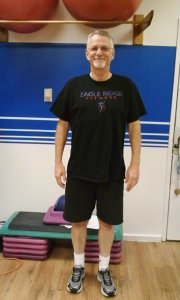 "Gary has lost nearly 50 pounds!"
To learn more, check out these additional resources or
call us at 604-996-1111 today!
Port Coquitlam Boot Camp
Port Coquitlam Fitness
Port Coquitlam Gym
Port Coquitlam Personal Trainer